Before committing himself to designing our garments, Lionnel DUCRUET worked for EIDER for 25 years… Nowadays, he works closely with our product development department, and uses his know-how to perfect the Horse Pilot brand. We owe him some of the embedded textile technology of our garments. Would you like to know more about his professional background? What comes next should be interesting!
From the warehouse to the workbench: a career that started in the field.
Tell us a little about your experience as Product Manager
Lionnel Ducruet: I've had a rather plodding career… Let's start at the beginning, so you'll have the full picture. My mother was a school mistress. My father went to work for his brother, who had founded the EIDER Company as technical director. In school I started out as a serious pupil, until the ease I had to get good grades made me work less and less until I became a failure.  My parents didn't like that one bit.
They thought that being confronted to the harsh reality of a worker's life would straighten my mind. So my father sent me to make boxes and put away fabric rolls in the plant he was managing. Instead of teaching me a lesson, and pushing me back to my studies, I thought that the experience wasn't so bad… I am not saying that making boxes and putting away rolls is fun when all your mates are at the University and are having a ball! But little by little my father started to ask me to do a few other things.
It started with model making, design, and later on I managed production when my father was away, handling stock…. I did a little bit of everything. Based on my experience on model making, I then focused on R&D, product development and design. Over time, I became the collection director. EIDER was originally a family business, but was taken over by different groups, until it was bought by LAFUMA. That was when I left the company because I didn't agree with the decisions that were being made. EIDER was being turned into a ski fashion brand with no technicity any longer, whereas my whole training and experience had been around technical products.
Creating garments for mountain climbers, with technical innovations embedded in them. I'm pretty down to earth. When it's about products, I get into it, I find out how it can be improved, what can be done… I'm not into the storytelling part of the thing : I'm not saying that it shouldn't be done, but it's not really my cup of tea!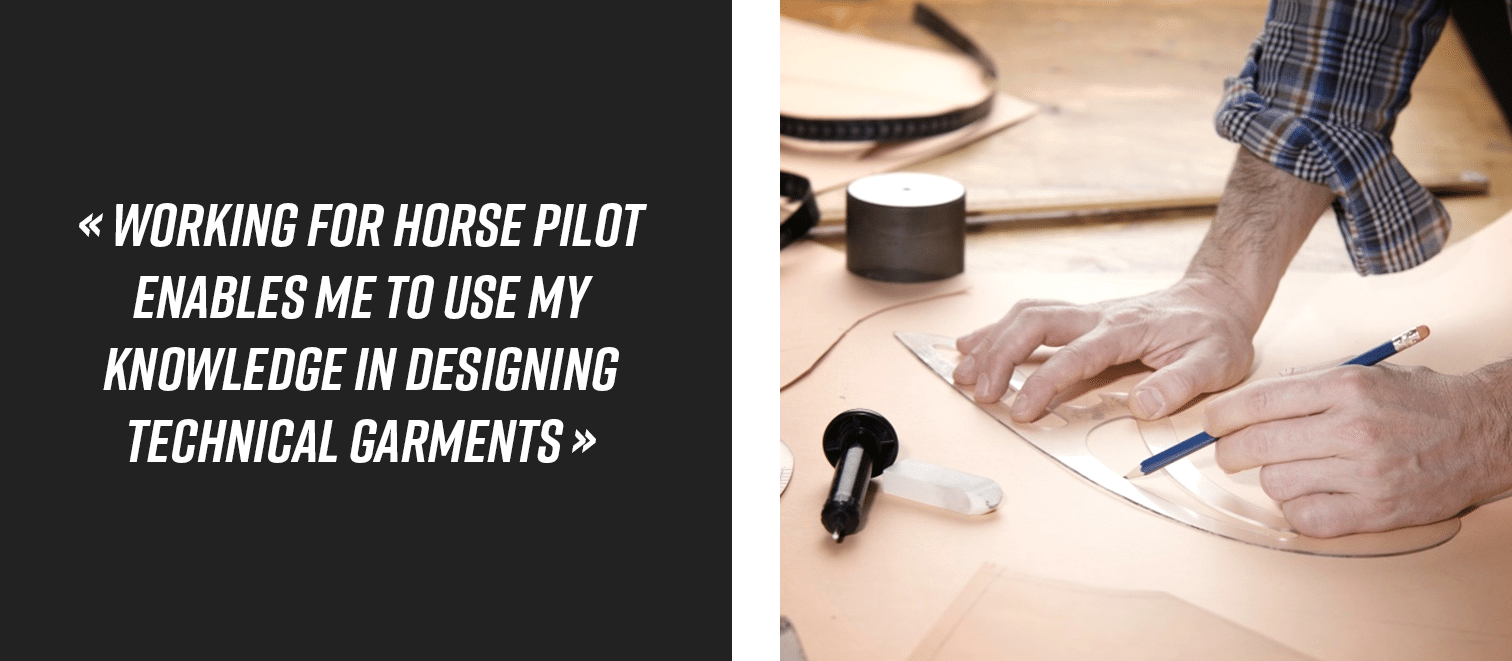 I'm not really interested in ready-to-wear clothes. I started to work for HORSE PILOT because I could set up technologies and bring them into the garments. There is a kind of legitimacy to the garments, it's not just to look nice. I like things to be honest and fair when we work in textile, and Horse Pilot enables me to use my knowledge in designing technical garments.
You mentioned model making, what does it entail?
LD: Initially, model making was the exclusive purvey of the tailor, the guy who made tailor-made clothes. Then we went to ready-to-wear so "standardizing" became essential. Making garments which were not tailor-made. The designer is the one who makes the template: in a technical garment, the designer cannot just make something nice – some really like this though; working on loose-fitting clothes, making dresses, etc – . I like designing something which looks good but what really matters to me are technical constraints.
Model making is about creating the shape of the garment, casting the garment, giving it a look and characteristics… you might bring in pockets on it, details and make it comfortable, easy to wear! That's what is interesting: creating a garment which is nice to wear AND enables you to move easily…. For a mountain climber it will be arm movements, for horse riding, because of the position on the horse, it's all about pre-forming, specific elasticity of the garment.
With pattern making notions, you can be asked to embed technologies in the garment. You might have to alter the garment's shape to integrate an element, change a hood, make it smaller or fit it to the riding helmet… that's model making. You can ask the sewing factory to do it or you can tell it exactly what modifications you want, it's more precise. So at Horse Pilot, I use my experience in model making every day, in order to transform garments, make them technically efficient, wear-friendly, and to communicate more easily with our partners (suppliers, sub-contractors…. ndhp)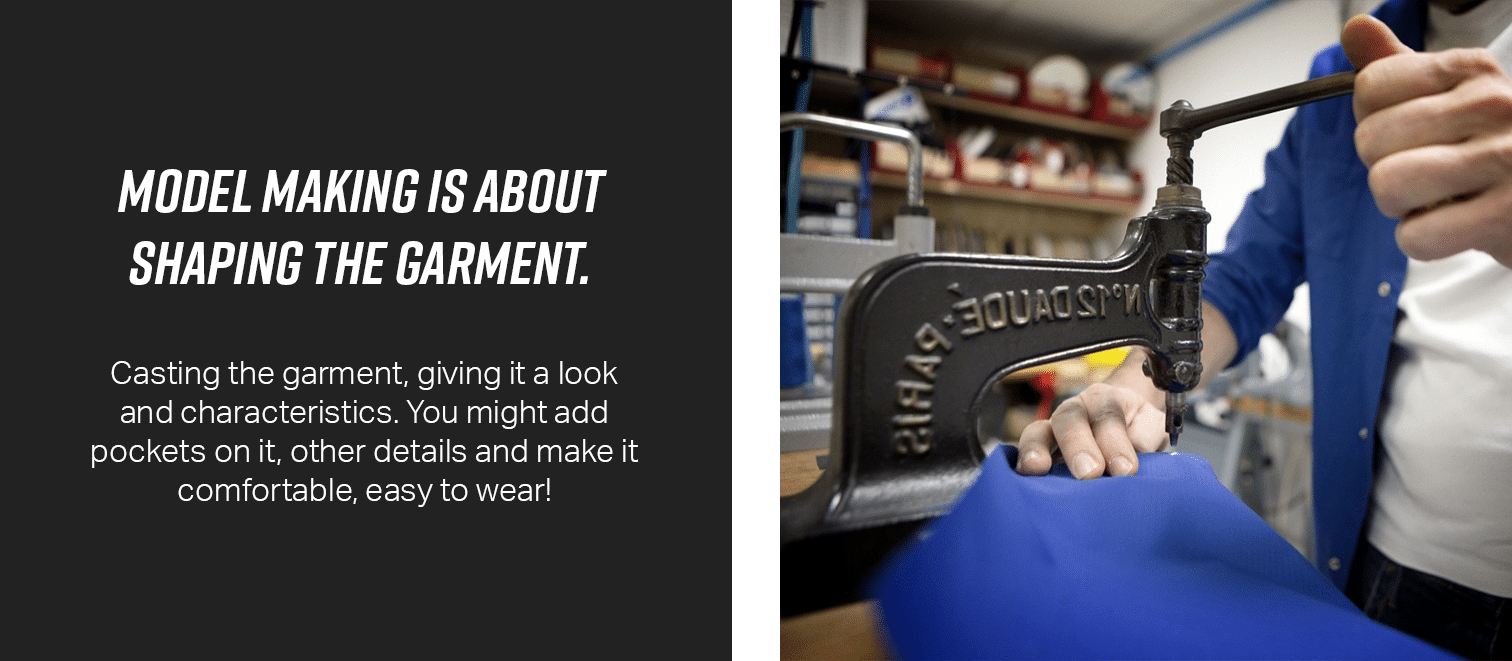 During your career, you had the opportunity to equip some explorers such as Mike Horn, can you tell us more about it?
LD: As long as it's in a field I am familiar with – outdoors – I think I can do it. When you are fitting a guy who does something really different, whether it is a mountain climber who is going to climb Mount Everest, or one who is going to spend months on the face of a mountain – I have personally never done this kind of thing, so I have to work with a technical consultant or a high level sportsperson, and I meet his expectations.
I create the garment that fits him and his needs perfectly. I've always made garments which were exactly what the guy wished for. Then, you get the garment back and you duplicate it in a "general consumer" version, removing the real specific stuff and keeping what is really interesting, what makes it special. It's a little like in Formula 1 racing: some technologies get transferred from F1 racing to consumer cars, but not all of them. This is the general idea. Working with technical consultants who do extreme things has taught me a lot. 
Sometimes, I won't be able to use it because it's too "narrow" but sometimes it helps me to think better. Let's take thermoregulation for example: how fighting against weather conditions works, when it's raining or it's cold, how humidity is evaporated under extreme cold… wouldn't it be better to freeze humidity somewhere and then break-off the ice, you see, sometimes things are no use, we won't be able to transpose them into a consumer garment, but some other things might work.
Meet sportsmen expectations
For you who aren't a horse rider, how can you actually know what to do?
LD: Nothing can be done without the Horse Pilot development team. Guillaume, Marion (HP product development) express their wants, needs and expectations for the garments. For example, we may be working on a stretch but resistant fabric: we talk about it and then I use my experience. In the end, whether it's about horse riding or any other sport, it always comes down to an outdoor sports activity; there is movement, you must protect yourself from harsh weather conditions; sometimes it's too hot, sometimes too cold and you must be able to sweat it out… 
All sports generate a need for protection and personal comfort: running or polar expedition, you must be able to manage these different stages. In mountaineering, it's the same. Horse riding is a sport which is practised outside, so we're talking comfort, ergonomics, weather protection, thermal management and humidity transfer. Stretching for the pants too, wear resistance… then you set your cursor.
If it's a three layer jacket with a grip on the thigh that is required, then what is complex is how I can make this system be strong enough, be waterproof and stylish too…  I can't say "the horse rider needs this", so they tell me "the horse rider needs this, how can we do it?"