The motivation to ride in winter is not always there: wind, rain, cold… The elements do not spare the riders. However, with adapted riding clothes, outdoor sessions can be much more pleasant than it seems. Horse Pilot reveals to you its secrets to be well equipped in winter.
How to choose your riding clothes in winter?
All the riders go through different phases during their sessions: preparation, warm-up, long and/or intense effort, recovery, rest and horse care. The body changes its temperature regularly and therefore has different needs.
In order to be well equipped, your outfit must :
Keep you dry in all circumstances
Maintain a comfortable internal temperature during each of these phases
Contrary to popular belief, adding layers does not make you warmer. To keep your body warm, you should choose clothes that are close to your body and that do not let the drafts through because they are responsible for your feeling of cold. Therefore, we advise you to adopt the 3-layer principle, which consists of wearing 3 levels of thickness in a precise order and with defined characteristics.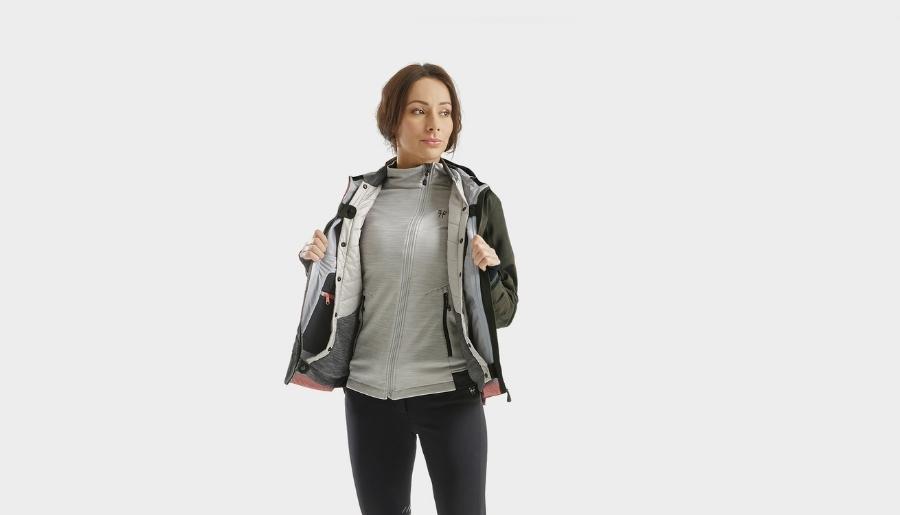 The 3-layer principle for keeping warm on horseback
A comfortable and breathable first layer
The first layer is the most breathable. As it is closest to your body, and therefore to sweat, the fabric used will be able to evacuate water vapor to keep you dry.
Choose synthetic fabrics that are hydrophobic: they do not absorb water.
A second layer for warmth
The second layer is used to maintain body temperature. We advise you to choose your second layer according to the outside temperature and to take in consideration the intensity of the effort to avoid overheating. Thus, in cool weather, a fleece jacket or a thin down jacket is generally sufficient. A thicker jacket or vest should be considered in case of extreme cold.
If the cold is your main enemy in winter, the option of a second insulating layer will be essential. Opt for a heated down jacket to be perfectly warm.
A third layer to protect you from the elements
The third layer is used to protect you from bad weather. There are three levels of protection:
Windproof: designed to prevent cold air from entering the garment
Water-repellent: treatment of the fabric that makes water slide off the garment, effective in a shower or a few snowflakes
Waterproof: designed not to let water pass through the fabric even in a heavy downpour
The Extrem Layer technology developed by Horse Pilot allows the creation of totally waterproof, windproof and breathable garments.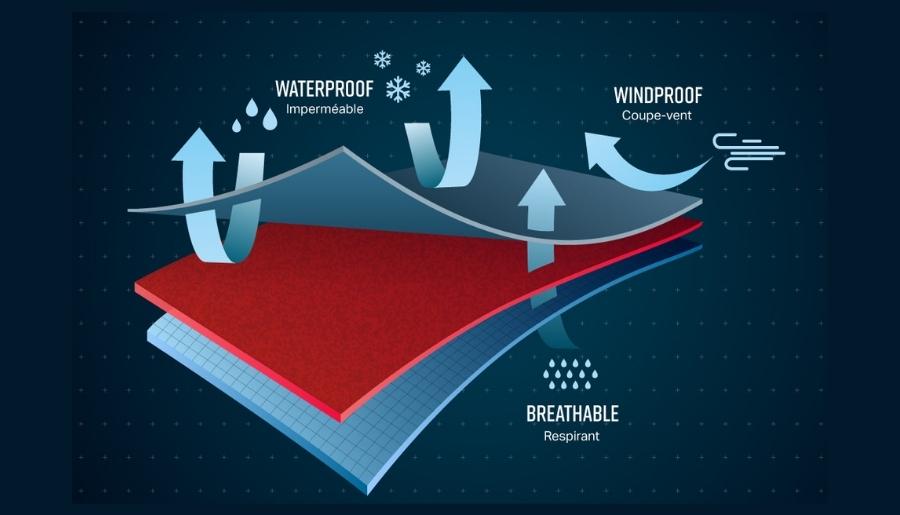 Our examples of outfits
The ideal outfit for riding in the wind and rain
Whatever the conditions, we advise you to always start your outfit with a breathable first layer.
In wet and disturbed conditions, a windproof and waterproof jacket will be necessary for the rider. Some hoods can be worn over the helmet to stay dry and safe.
A down jacket or sleeveless vest can be added as a second layer at the beginning and the end of the session to stay warm even when resting.
The perfect outfit for riding in cold weather in winter
If the cold is your main enemy in winter, the option of an insulating second layer is a must. Opt for a heated down jacket to keep you perfectly warm.
Some multi-purpose jackets combine rain protection with cold insulation, allowing riders to go on long rides without worrying about the weather.
In case of extreme cold, there are down jackets that combine warmth and breathability and thus act as a second and third layer. This is the case of the Fahrenheit down jacket.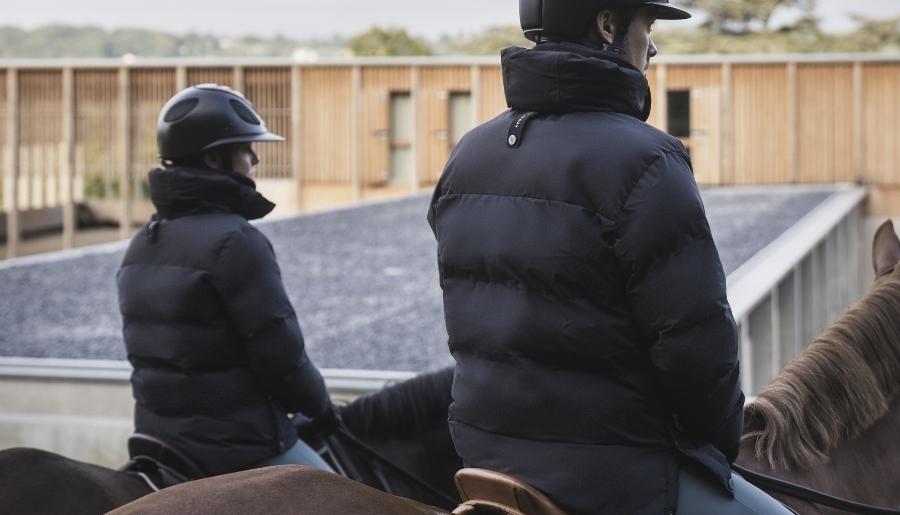 Protecting the lower body with riding pants for winter
In winter, the rider can use the three-layer principle by wearing tights as a first layer. The Optimax Tights, our thermal tights do this very well with their extra warmth under the pants, which will delight even the coldest of Pilots.
In cold and wet conditions, a pair of warm and waterproof riding pants will be the key piece to protect the lower body. It is also possible to combine everyday riding pants with X-Protech chaps that can be slipped over them.
A slightly larger boot or shoe size is a good choice in winter to promote blood circulation in the feet while leaving enough room for a thick pair of socks.