Events
On all our events, you'll find our services such as: fitting of the new collection, airbag inspection, cleaning service, recycling station, after-sales & repair service; as well as games and entertainment with our ambassadors! More details on the event page.

CHI of Geneva🇨🇭
Activities & Events on site
Introducing the new collection
Discover the new Fall / Winter 21-22 collection exclusively at Equita Lyon. For the event, winter down jackets will be back in stock, the new collection will be presented, our Airbag vests will be demonstrated and the Teknit Boot, our reinvented riding boot, will be discovered.
Launch of the boot
Come and discover our new 2021 product on the stand: the Teknit Boot, one of the most comfortable riding boots in the world. Made of a highly stretchable 3D mesh, the Teknit Boot adapts to all morphologies and allows the muscle to function fully. On the program: demonstration, trial and pre-order.
Services & Repair
You have a problem with one of your Horse Pilot products? Our pop-up store welcome you to find the solution you need. We have on the spot small material allowing to manage the most common repairs (lost button, small seam…). We will collect the products which require a more advanced repair in our workshops.
Making an appointment
Book a time slot and meet us at the Horse Pilot stand for an individual visit. Our team will be happy to welcome you on the stand and provide with personalized service: product demonstration, collection presentation, technical advice …
In order to offer you the best possible experience
without queuing at our Horse Pilot stand,
please book a time slot for your visit: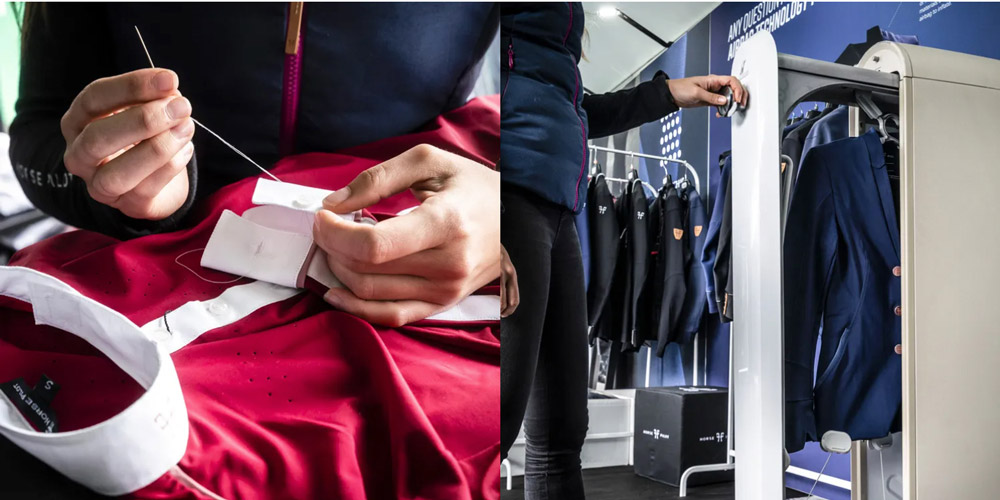 60th edition of the Geneva CHI from 9 to 12 December 2021 – Palexpo
Every year, nearly 42,000 spectators gather around the world's largest indoor track – 5400 square metres – to experience live sporting moments of supreme level. Among the highlights of recent years are the two World Cup finals (1996 and 2010), the hosting of the IJRC Top 10 Rolex Final 13 times since 2001 and the 9th "Best Show Award" of the equestrian year. But what makes Geneva different from other indoor shows? Geneva is the indoor show with the longest tradition and an ideal combination of love for detail and passion for show jumping. Every year, 700 enthusiastic and motivated volunteer helpers bring this adventure to life.
Geneva CHI Days 2021 programme
THURSDAY 09 DECEMBER
08:15: Credit Suisse Prize > Jockey Club R/N 115, scale A > National Jump, Main Track
12:00: Radio Lac Prize > Barème A > CSI 5* Jump, Main Track
Next: Swiss Wine Geneva Prize > A scale > CSI 5* jump, Main Track
6pm: Land Rover Prize > Barème A > Under 25 event > CSI U25 Jumping, Main Track
8.15pm: Geneva Trophy > Qualifier for the Rolex Grand Prix > A scale with a jump-off, Event counting for the world ranking > Jumping CSI 5*, Main Track
08:45: Credit Suisse Prize > Jockey Club R/N 125, A scale > National Jump, Main Track
12:30 pm: Land Rover Cup > Barème A, Under-25 event > CSI U25 jumping, Main track
2:30 pm: Prix des Communes Genevoises > Barème A on the stopwatch, Event counting for the world ranking > Jumping CSI 5*, Main track
9.15pm: 20th Rolex IJRC Top 10 Final > A scale in two rounds > CSI 5* Jumping, Main Track
Tuesday 11 DECEMBER (DAY)
08:00: Credit Suisse Prize > Jockey Club R/N 135, Barème A > National Jump, Main Track
12:30 pm: Coupe de Genève > Combination event, Rolex Grand Prix qualifier, Scale A with a jump-off, Event counting for the world ranking > CSI 5* jumping, Main track
3.30pm: Land Rover Grand Prix > A scale with a jump-off, Under 25 event > CSI U25 Jumping, Main Track
SUNDAY 11 DECEMBER (EVENING)
18:00: Grande Chasse > Barème C, Lake passage and natural obstacles, Event counting for the world ranking >
CSI 5* Jumping, Main Track
9.30pm: Crédit Suisse Challenge > Scale A, Event counting for the world ranking > CSI 5* Jumping, Main Track
SUNDAY 12 DECEMBER
08:30: Prix de l'Institut International de Lancy > Progressive event > Jumping CSI 5*, Main Track
09h30 : Prix de la FECH > Event reserved for the best 7 & 8 year old CH horses > Breeding jumping, Main track
3pm: Rolex Grand Prix > A scale with a jump-off, Event counting for the world ranking, One of the four events of the Rolex Grand Slam of Show Jumping, the Grand Slam of show jumping combining the Majors of Bois-le-
Aachen, Calgary and Geneva. CSI 5* Jumping, Main Track
CHI Geneva in figures
Date: 09.12.2021 to 12.12.2021
Country: Switzerland
Spectators: 42,000
Budget: 8 million Swiss francs
Total prize money: 2.4 million Swiss francs
Journalists: about 220 journalists from around the world
First international competition: 1926