This month, focus on the young generation and meeting with Paul Kennedy, a young Irish ambassador who has everything a big rider has.
HP : How and when did you start riding horses?
PK : I have been riding for as long as I can remember. Its in the blood . My family are very passionate about horses. We have a stud farm at home in Ireland where we aim to breed and produce top quality sport horses.
HP : Tell us about your career of riders!
PK : My showjumping career started when I came across Cartown Dangermouse ; a homebred mare who I started to ride when I was 16. After that I began to take the sport more seriously. We learned everything together and with thanks to this horse I have been lucky to travel to some of the best shows in the world. We have been honoured to represent our country on 8 nations cup teams and a highlight for me was to win the prestigious Bolesworth 4* Grand Prix in 2018.
I have been helped throughout my career with support from my family and amazing owners and of course also from all of the other riders on the circuit. I would have to say that Cameron Hanley and the Quigley family have been a big inspiration for me and they have helped me so much along the way.
HP : What is your equestrian big goal?
PK : The main goal for me is to keep training and improving all of the time. I want to be able to ride to the top of my ability and learn the amazing horsemanship skills of all of the other top riders and trainers out there. Eventually I would like to open my own stable and produce quality showjumpers to compete at the highest levels .
HP : What is your story with Horse Pilot?
PK : I was very lucky to be introduced to Horse Pilot while I was riding at the nations cup show in Hickstead this year. I have noticed the brand growing and getting more popular at all of the big shows. I was so excited to meet the team and learn more about the products. I would choose Horse Pilot because the brand is so comfortable to ride and compete in. It's also a very modern fashionable brand which stands out and helps us look professional and tidy when we are at shows and meeting potential customers and owners alike.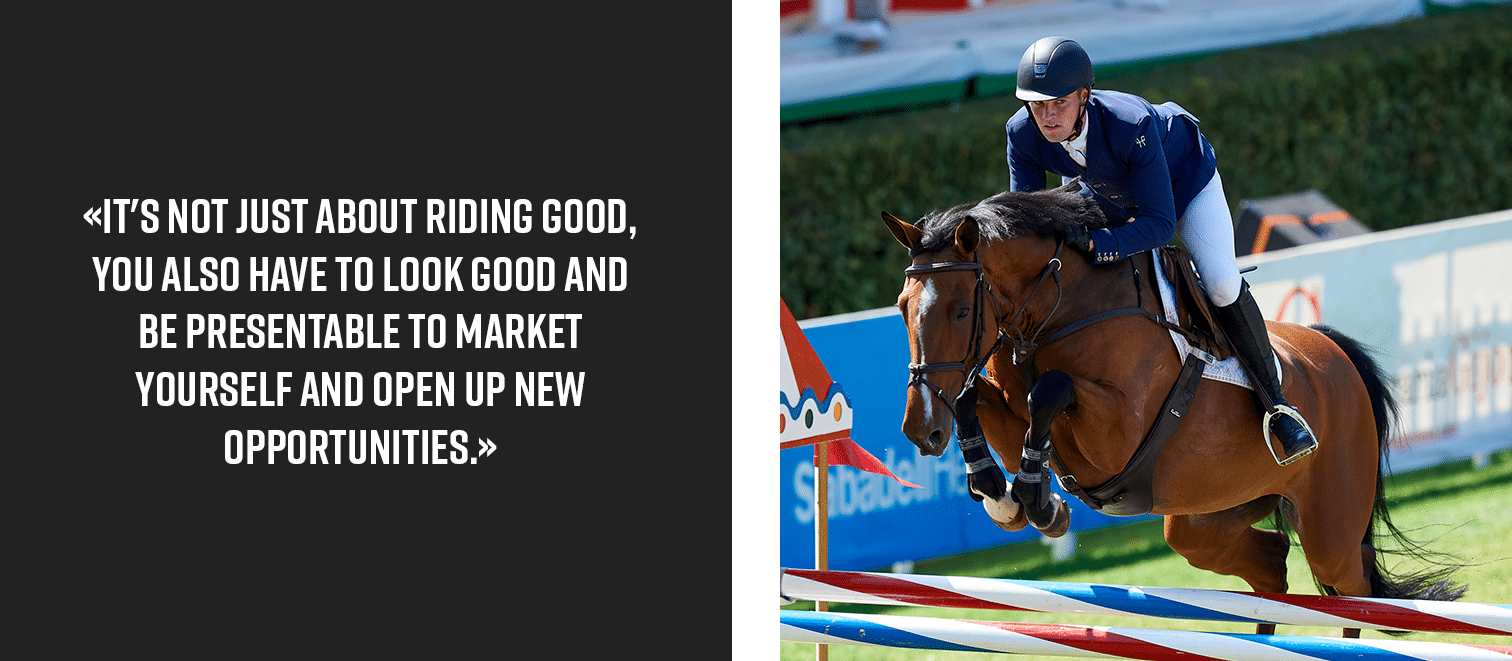 HP : Tell us about the evolution of riding clothes in your country (Ireland, ndlr) wich is very traditional.
How the young generation sense this evolution?
PK : It's interesting to see how the style of riding clothes has changed in recent times. Equipment and clothing used to be so heavy and old fashioned. Thanks to innovative brands like Horse Pilot the clothes have become a lot more lightweight and athletic. The technical clothing makes it so much more comfortable to ride .
Young people also want to look good. All of the clothes fit better now and are much more modern and fashionable. It's not just about riding good, you also have to look good and be presentable to market yourself and open up new opportunities. I'm very lucky to have the support of Horse Pilot to help me do this !
HP : What is your favorite Horse Pilot product and why?
PK : My favourite Horse Pilot product are the men's competition breeches !
It's so hard to find nice breeches that are a good shape and not too tight! These fit so well and material is really comfortable! They give really good grip when you are competing and training. They are also quite hard wearing and last such a long time!
I am very happy to be a partner of horse pilot ! It's always exciting when you are involved with an innovative company that listen to the athletes and always want to grow and improve !